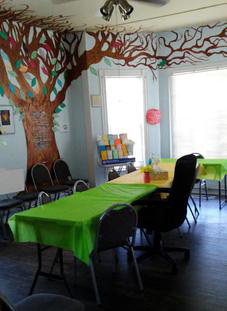 Open Hours 9 – 5  weekdays
The Drop-In Center is funded by a grant through Department of Health & Human Resources- Behavioral Health & Health Facilities.
Drop-In Center Manager: Donna Coleman, PRSS (Peer Recovery Support Specialist)
In 2011, The BoMar Club Inc. was awarded a grant through the Department of Health and Human Resourses, Bureau for Behavioral Health and Health Facilities to operate a Drop-In-Center. The center opened October 1st, 2011. Through the grant, there is a contract Drop-In-Center Manager on site to provide assistance, referral services, and coordinate activities. The Drop-In Center offers educational and recreational opportunities with a primary focus on peer supported recovery for anyone struggling with addictive diseases and /or co-occuring mental health disorders.The Drop-In Center is governed by the BoMar Club Board of Directors. The overall philosophy of management and operations is based on the guidelines inherent to 12 step recovery programs.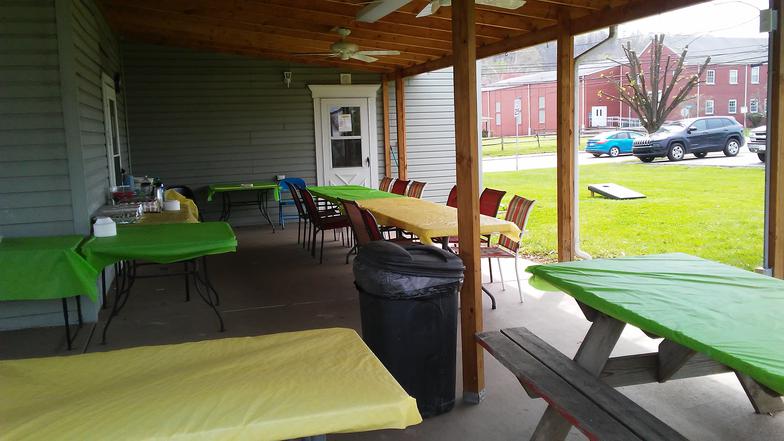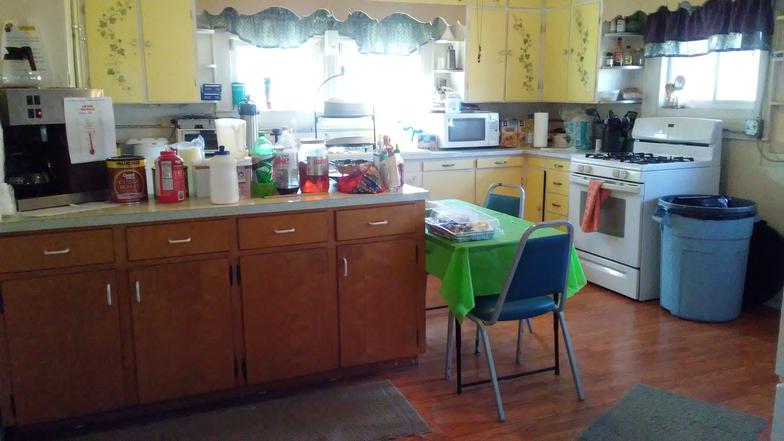 Recovery Education Meetings
The Drop-In Center
We are available for you to come in anytime Monday thru Friday if you are having a problem with addiction or mental health issues, we can help point you in the right direction. If you just need to talk or need information we are here to offer help to you and your family.
Current Groups offered at The Drop-In Center
RECOVERY MEETINGS MONDAY-FRIDAY @12:30
BREAKFAST AND SNACKS ALWAYS AVAILABLE
LUNCH PREPARED DAILY (Mon-Fri)
PRSS (Recovery Coach) Services – PEER SUPPORT
RESOURCES TO MENTAL HEALTH AND ADDICTION SERVICES
SHOWERS AND PERSONAL HYGIENE ITEMS
LAUNDRY FACILITY AVAILABLE
Call 304-372-3722 to make sure meeting hasn't changed.
Other meeting in Jackson county or new meetings
INTERNET ACCESS FOR JOB SEARCHES, HOUSING AND STATE BENEFITS.
TRANSPORTATION TO TREATMENT CENTERS, BHU AND/OR HOMELESS SHELTERS
RESOURCES FOR LOCAL FOOD BANKS
RESOURCES TO LOCAL AGENCIES THAT ASSIST WITH RENT AND UTILITY PAYMENTS
FREE YOGA CLASSES EACH WEEK
WE COLLABORATE WITH LIKE MINDED BUSINESSES AND COMMUNITY MEMBERS
12 Step meetings available most evenings
Notary Services
United Way Employment Closet
If you need help finding a meeting just call the BoMar Club @ (304)372-3722
What some of our visitors have to say about our Center.
The BoMar Club is my home away from home. When I first came into recovery I was full of fear about where I would go for recovery in this county. Then someone suggested the BoMar Club. I walked in the doors not knowing what to expect, and what I found was a family. The people are willing to do anything for me at any time. They are always there to offer support, friendship, and love beyond belief. The BoMar Club has helped with my recovery by offering meetings that keep me on track and fellowship that allows me to be myself in a setting that makes me comfortable. Without BoMar and all the people there, I wouldn't be where I am at today. I have 4 years clean. It's a great place of recovery and a home away from home to those wanting to continue their recovery.
- Kara
What some of our visitors have to say about our Center.
The BoMar is unlike any other place I have been. They have become my extended family. There is always someone there who can steer me in the right direction. They helped save my life. I am truly blessed to have a place like the BoMar to go to.
- Megen
What some of our visitors have to say about our Center.
The BoMar Club has been a great place to go and learn about alcoholism and addiction. I have learned how to get along with different people and personalities. I have learned steps to take to help keep my attitude positive, even in bad times. I never knew how to do that before. I have learned how to look at my part in my problems and not blame them on other people like I used to. I am a happier person now.
- Anonymous
What some of our visitors have to say about our Center.
I look forward to going to The BoMar Club and seeing some of my new friends every week. I have learned that my recovery is my responsibility and that there are people here to help. I need to hang with the winners and stay away from the losers.
- Anonymous
What some of our visitors have to say about our club.
It is good to know that there are other people who are like me.
I can talk about my problem with people who have the same problem without feeling like I am being judged.
- Anonymous
Interested in learning more?